Weekly Update - Thursday, August 17th, 2023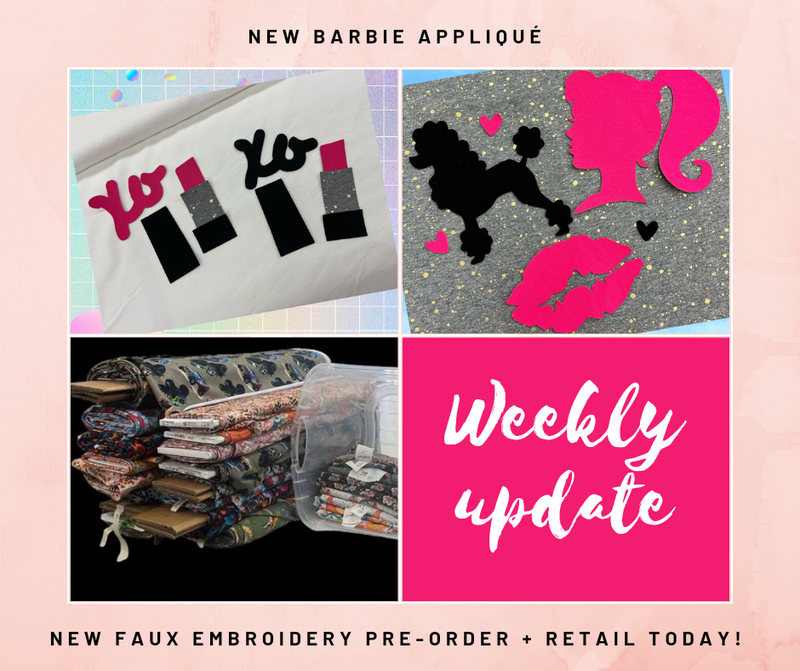 **** WEEKLY UPDATE ****
Lots of new things happening today, read below for details :) 
PRE-ORDER
The last box of Faux Embroidery arrived this week! They are being cut and the rest of the orders shipped out! The remainders retail today!
A *NEW* Faux Embroidery pre-order opens today for those wanting to get there hands on more! 
The Holiday round strike offs are still lost in space. But you can check out the mock-up album here: https://www.facebook.com/groups/3697847513574105/permalink/24531672979764921/?mibextid=Nif5oz
SMALL BATCH PRINTING:
Next deadline - September 15th
NEW ARRIVALS & RETAIL:
*NEW* Appliqué drops today - Barbie themed!
10 new Posh French Terry & Ribbing ordered and set to arrive in the Fall.
Small zipper restock ordered
THERAPY THURSDAY:
Going along with our Barbie theme, all 'pinks' are 10% off today! Discount applies automatically.