Weekly Update - Thursday, February 3rd, 2022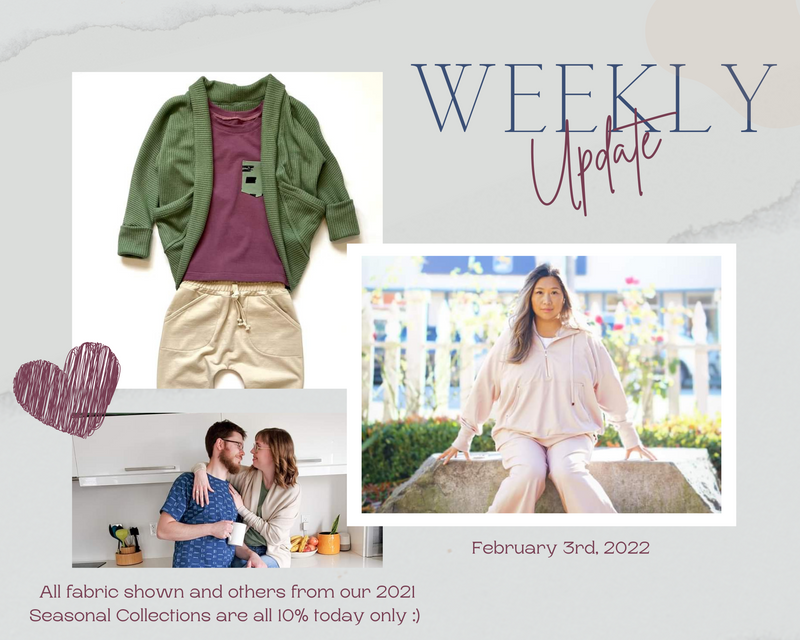 Hey, Hey!! Here's your weekly update:
UPCOMING RETAIL:
TODAY - Lindsey's Sled Leftovers *** VERY limited *** Retail opens at 7 AM SK time. That is in exactly 1 hour from this post!
February 10th, 7 AM SK time -  Lindsey's Bunnies/Easter Prints
PRE-ORDERS:
Chantal Wilson's pre-order "Earthy Edition" Round 16 has closed & is ordered.
Our next round R17 - "Minimalist Musings" designed by Nicole Reed will run February 20th - 26th. Find the Guest Call out post to get a peek at the prints. Chosen Guest strikests will be contacted shortly :)
Likely in March, we will have a tag pre-order with our new Laser Cutter! It is still in transit to us.
EXPECTED ARRIVALS & RESTOCKING:
Shear Comfort Bamboo restock and new colours coming really soon! It is in Vancouver & we are just waiting for it to clear customs.
Posh restocking expected in 2022 - late March
Drawstring restock
Spring collection!!!!!!!!! Are you as excited as I am for it!?
THERAPY THURSDAY:
Today's Therapy Thursday is awesome - 10% off all of the 2021 Seasonal Collections!! Discount will apply automatically at check out.