Weekly Update - Thursday, January 20th, 2022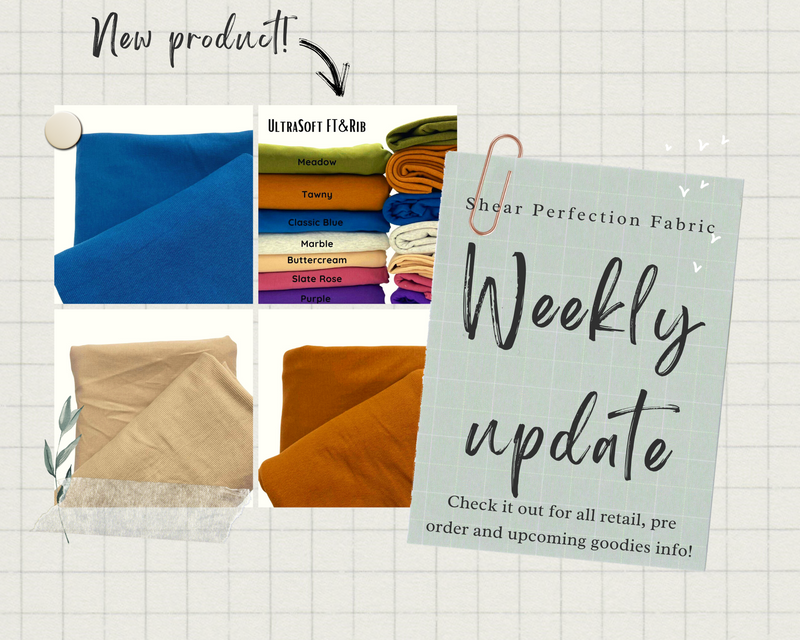 Happy Thursday Friends! Keep reading for your full weekly update:
UPCOMING RETAIL:
Feb 3rd - Lindsey's sled leftovers (small amount only)
Date TBD -  Lindsey's Bunnies will go straight to retail in a few weeks 
PRE-ORDERS:
Chantal Wilson's pre-order "Earthy Edition" Round 16 opens in just a few days! The preorder will run January 23 - 29th.
In Feb or March, we will have a tag pre-order with our new Laser Cutter (YAY!!!) that is on its way to us!
EXPECTED ARRIVALS & RESTOCKING:
ULTRA SOFT - our new mid weight FT with matching rib line is LIVE. This is the same base as our spring/winter collection French Terry and Rib. It is a tad lighter weight (5-10 GSM) than our Shear Solids FT, with better drape.
Our solids restock is underway, there is still some CL to be listed to the site.
Shear Comfort Bamboo restock and new colours coming soon - it's arrived in port, but is still sitting in Vancouver.
Foundation Ribbing restock has been delayed; many colours are out of stock at the supplier and we opted to wait to ship the others all together.
Posh restocking expected in 2022 - late March
THERAPY THURSDAY:
 In stock custom prints will be 10% off today. Discount will apply automatically at check out.