Weekly Update - Thursday, March 17th, 2022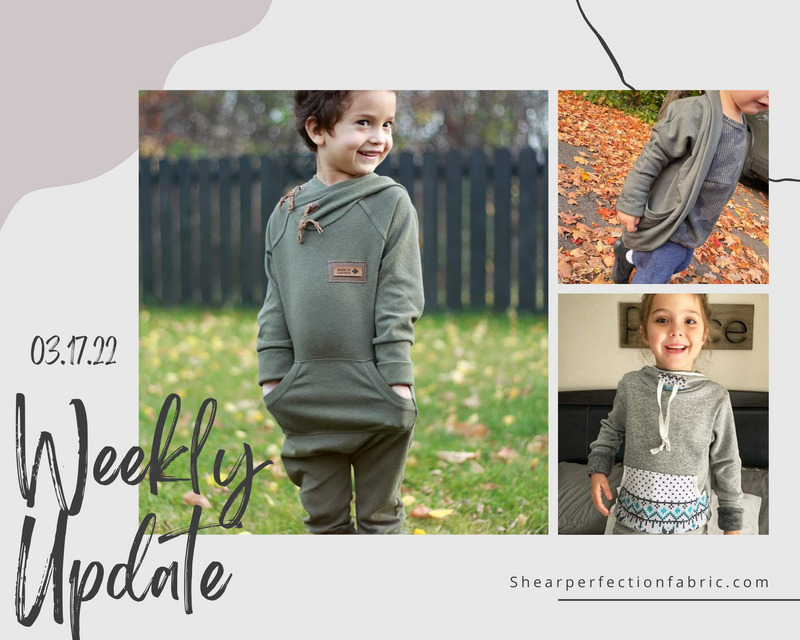 So many great things in our update this week - check it out:
PRE-ORDERS:
R17 - "Minimalist Musings" designed by Nicole Jeaneen is printing.

R16 - Chantal Wilson's pre-order "Earthy Edition" is almost done printing.

R18 -"Bloomy Days" by Kearon Alexandra is scheduled to open the last week of March. 

R19 - "Sweet Galactic Adventure" by Amelia Lanciault will run the end of April. R19 also has over 20 bonus prints by Shear Perfection Fabric that will be offered in swim bases - expected end of May. 

We have 10 GUEST SEWISTS SPOTS for this round - 5 specifically for those who have never strike sewn before!!!! Find the Post & Apply!

Spring collection is on its way to us and we will set a retail date once we have it in our hands. 5 new custom dyed colours - 2 prints, rib, & solid for each one!

More shipping delays with our laser printer, but when we get it we will have a leather tag pre-order! 

Custom small batch printing "February Batch" - has been submitted for printing Feb 27th, Expected arrival March 21st. Check out the website for all the details: https://shearperfectionfabric.com/pages/on-demand-printing
EXPECTED ARRIVALS & RESTOCKING:
Board short basics have almost arrived! Solid colours, some textures and a small variety of prints.

Swim solids, ribbed swim solids, lining (black and white) and elastic will be stocking mid-March - prints will be available in R19 (for May arrival.)

Fun notions coming end of March - reflective tape (high vis), fold over elastic restock, round cord restock

The newest See You At Six collection has arrived. Just waiting on the official North American launch date for us to release it!

Shear Comfort Bamboo restock and new colours coming really soon! It is in Vancouver & we are still waiting for it to clear customs.

POSH is finally in Vancouver! 

1/2 inch grommet refill packs are ordered in rainbow, rose gold and gun metal - expected in April

Snap Sets are reordered - expected in April
THERAPY THURSDAY:
Getting in a few last winter & spring sews? All Jogging & Sweat are 10% off today!