Weekly Update - Thursday, November 18th, 2021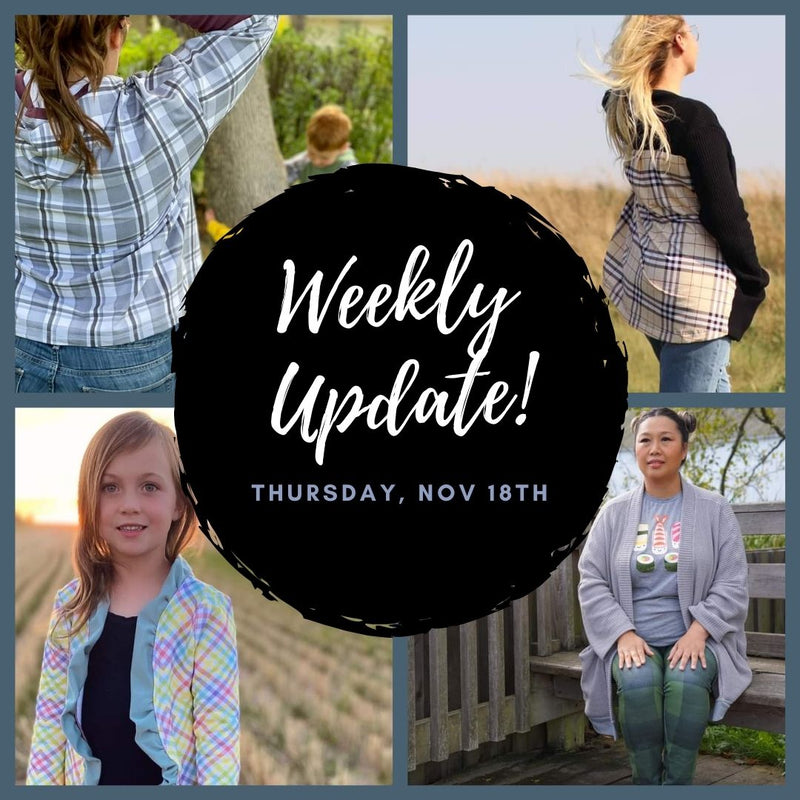 This week's update is a long one, but full of all sorts of exciting things coming soon!
RETAIL:
- Remaining Plaid Round retails TONIGHT!!! November 18th at 7PM SK time.
- Winter Collection extras have NOT been uploaded yet . We wanted to leave a little extra time for orders to arrive to people. There is left overs of most prints except love letters.
PRE-ORDERS:
- Our next Pre-order will be in January and will be the first full round designed by a member of our Design Team Co-Operative! We are so excited and will sneak some peeks when the strikes arrive.
* there will be a guest strike sewist call out for this round - so fair warning to brush up on your photography skills for your application*
EXPECTED ARRIVALS:
- Solids restock has been started. More will continue to be uploaded as we get it bolted.
- Straight to retail prints (mostly FT) coming in December
- Shear Comfort Bamboo restock and new colours coming Jan 2022!
- Restock of rainbow PomPoms coming in December
- Jersey bias tape restock on route expected late November/early December
- Foundation Ribbing restock expected in December
- Expansion of the Shear Solids FT line (with matching rib) expected in 2022
- Posh restocking - 2022
THERAPY THURSDAY:
10% off the freshly restocked POMPOMS!!
***BC Flood - we have temporarily stopped shipping current orders placed to BC. We will hold them in store until you are comfortable with them leaving. We do know Canada Post will hold the parcels until they figure out a way to resume deliveries to some areas, but felt that customers may be more comfortable knowing their packages are safe and sound at the Shear Shop, rather than caught up in the backlog. Please refer to the announcement post for more information.