Weekly Update - Thursday, November 24th, 2022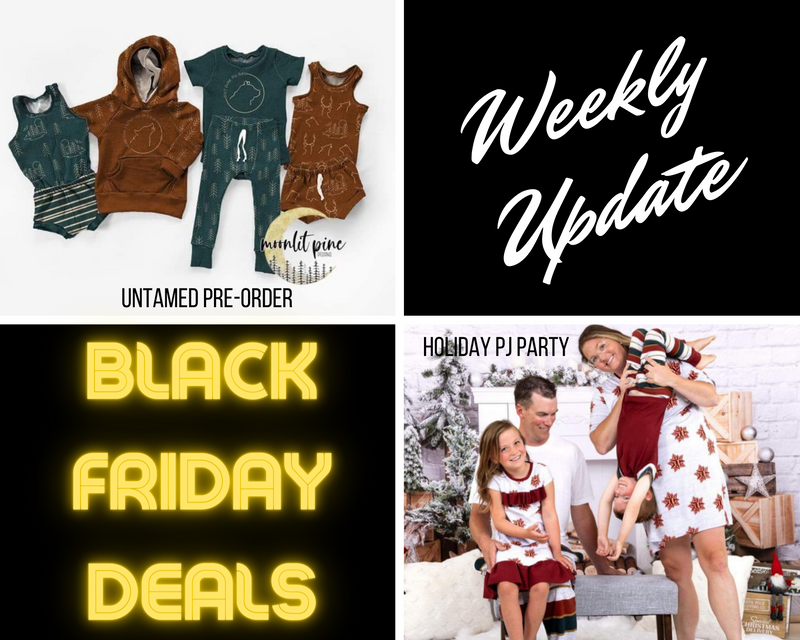 Happy Thursday! Can you believe it's almost December ?
Here's your weekly update:
PRE-ORDER:
"Earthy Series" pre-order has arrived. We start cutting it next week
Advent Calendars were shipped out yesterday!
Our Pyjama Party is underway and will run until the 30th of November. The grand prize is a LARGE Advent calendar, with 2 other prizes of 50$ Gift cards for those sewing up PJ's. If you don't have time to sew up some PJ's join us anyways and enter to win some of the small, weekly prizes!
R22.1 Moonlit Pine's latest Collection "Untamed" pre-order is open until November 26th. We will run it again in late January/Early February 2023 (R22.2)
SMALL BATCH PRINTING:
November 15th has arrived and we will start cutting it shortly
Next deadline - January 15th. There will be no December small batch order.
RETAIL & NEW ARRIVALS:
"DREAM" sherpa dropped last week - 12 colours of amazing sherpa and coordinating rib!
BLACK FRIDAY we will be having a 10% discount store wide sale all weekend long! Check out the pinned post on Facebook for a few additional sales.
Winter Collection is slowly making its way to us and will likely retail January
Twinkle Tractors, Put a Bow on it and Glowing Globes French Terry were all listed to the site this morning.
**** The Shear Shop will be closed from Dec 23rd, 2022 - January 3rd, 2023. The website will be open for orders, but no orders will be fulfilled or shipped until after January 3rd ****
THERAPY THURSDAY:
No sale today as we prepare for the Black Friday sale - starting at 12:01am CST on Nov 25th.