Weekly Update - Thursday, October 28, 2021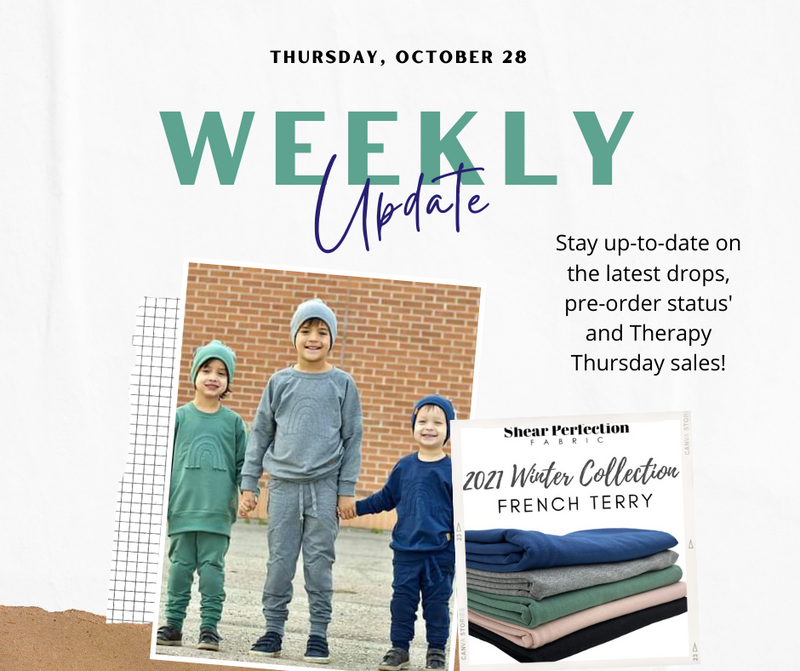 Hey friends! Here's your weekly update for Thursday, October 28th, 2021:
PRE-ORDERS:
- Plaid Round has been fully shipped to us. The brushed french terry has arrived and we have started cutting. FT, Woven and CL is hot on its tail - due to arrive next week. Emails went out for layaway balance clean up, as well as the ADD ON deadline of Oct. 31st at 11:59 PM. If you are wanting to combine in-stock items with your pre-order before it ships, please have add on orders done BEFORE then. Instructions on how to do so have been emailed.
EXPECTED ARRIVALS:
- Pom Pom restock - rainbow pompoms arrived and have been listed to the site
- Sherpa (Black, white and beige) restock arrived and will be listed as soon as we get a chance between all the incoming fabric 
- Solids restock has been started - more will continue to be uploaded as we get it bolted.
THERAPY THURSDAY:
Low pile fleece is 10% off today! Discount is applied at check out!
Have an awesome day!