Shear Rivets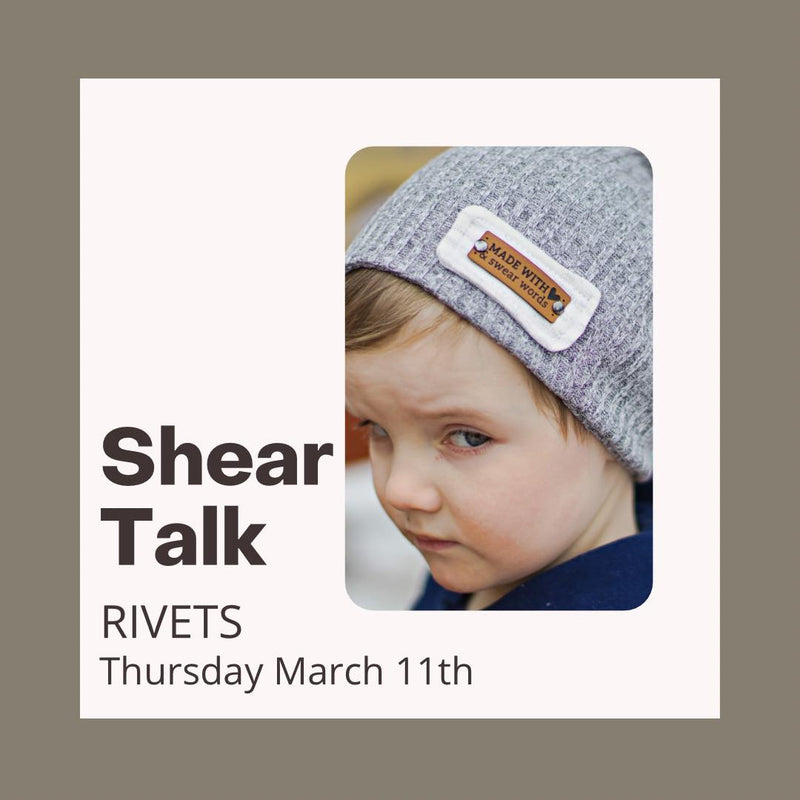 You may not know them by their name, but rivets are everywhere! They are used in construction such as bridges, cranes, airplanes and building frames. They are used in jewellery making, leather working and woodworking. They are also used in sewing - like on the pockets of your favourite jeans!
The main purpose of a rivet is to join together two or more layers that might be too thick to sew together with a machine. They are great for reinforcing corners or stress points - this is why you see them on your jeans. They give projects a professional look and add a nice decorative touch to jeans, jackets, sweaters, hats, bags, belts, keychains, dog leashes and other accessories!
You can find the Shear Rivet Kits HERE.
Kit includes:
Hole Punch

Anvil Base and Setting Tool

100 6mm Rivets (posts + caps) in 4 colours - gunmetal, silver, brass and rainbow

Storage Box  
Additional tools needed for installation:
Hammer or Mallet

Awl (*optional* for thicker layers)
Installation:
Layer the pieces of fabric that you intend on joining together with the rivet and mark the spot you want your rivet with a pen or fabric marker. 

Place the hole punch on the spot you have marked and push it into the fabric to create a hole. You could also use an awl, if you have too many layers for the hole punch. You want the post to fit snug in the hole to prevent the rivet from falling through it.

Insert the post half of the rivet through the hole. The length of your rivet post should be similar to the thickness of fabric layers you are joining - about 1/8 of an inch longer. Otherwise, the rivet will be loose or may bend when you tap it with the hammer in step 7.

Place the cap part of the rivet on top of the post and push them together until you hear/feel a little click. They are now loosely connected.

Place the post side of the rivet on the anvil in the little indent.

Place the concave/curved part of the setting tool, upright, on the cap side

On a hard surface, give the rivet a few taps with the hammer and voila, you've done it!
Check out the installation video HERE.
Here is some inspiration of how you can use them:
Amanda from AM Designs Handmade used them to join the layers on this amazing tool belt!
Heather from Manitoulin Threads used them to reinforces the pocket corners and as a decorative element on the sleeves of this hoodie.
Heather also added them as a functional design element on these sleeves. The rivet will keep those 2 layers together and prevent them from sliding or twisting.
You can even use them to attach the Shear Tags when working with multiple layers of fabric!