T-shirt Comparison with Shear Confetti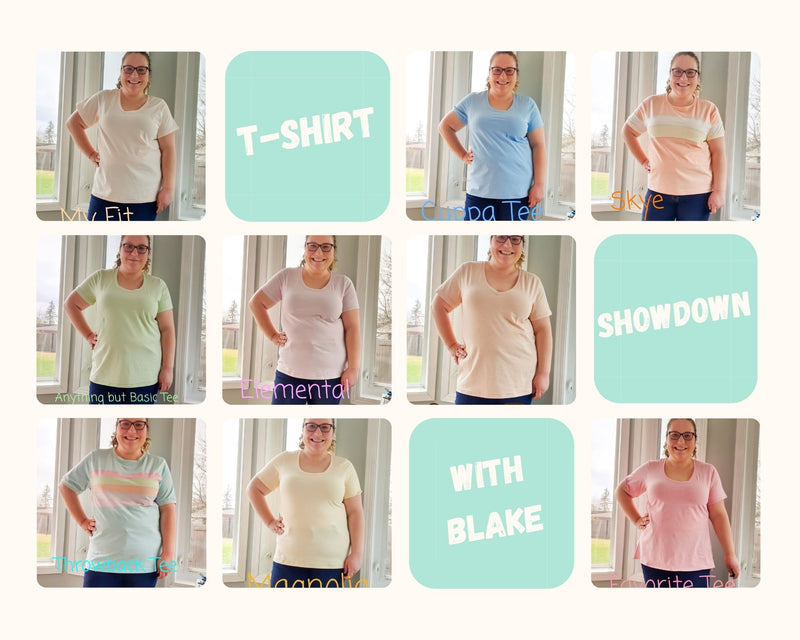 One of the lovely sewists in the Shear community, Blake did a comprehensive comparison of several t-shirts using different colours of Confetti Jersey! If you missed all her posts, here's what she had to say:
"When I started this project, it was important to me to ensure the patterns I chose were size inclusive, and I used a 59/60" hip as my minimum (with the exception of the Waves & Wild Cuppa Tee which only goes to a 57" hip, and so I do apologize for that). Had I done my homework properly I would have included a different, more size inclusive designer. The shirts I sewed were:
- Apostrophe My fit
- Buttons & Bibs Elemental Tee (Free)
- DIBY Anything but Basic Tee (Free)
- Ellie & Mac Oversized Tee
- George & Ginger Throwback Tee
- Greenstyle's Green Tee (Free)
- Love Notions Laundry Day Tee (Free)
- Patterns for Pirates Favorite Tee
- Petite Stitchery Skye
- Sonia Estep Magnolia (Free)
- Waves and Wild Cuppa Tea
My measurements, for reference, are:
Upper Bust 42"
Full Bust 46.5"
Waist 41.5"
Hips 49"
I figured I'd start with the two I didn't like. These two were my outliers, the ones that were different than the other 9, but I wanted to try them out. The green (Kiwi) is the Ellie & Mac Oversized Tee in size 2XL and the grey (Plum) is Love Notions Laundry day Tee in size 2x UB, 2x FBA FB, 3X Waist and hips.
The oversized tee - I wasn't a fan of it straight from when I started cutting it out and I'll be repurposing this one. I know its supposed to be oversized but it's just sloppy for my liking.
The Laundry day tee I can see why lots love it, it's just not my style and the fabric type made it very boxy. Loved that they included a FBA piece though. And I'm looking forward to making other Love Notion patterns.
Moving onto the two shirts that were the tightest fitting. Sonia Estep Design Magnolia Tee (Yellow/Apricot) and Buttons & Bibs Elemental Tee (Light Purple/Grape). Bonus, both are free. 
The Magnolia Tee is a 18 UB, 20 FB, 24 W, 20 H, 24 bicep. I also lengthened it 1" because my side waist is 9" and it's drafted for 8". I made an error in cutting the back at the waist. I cut a size 22 on the back piece instead of a 24.
Elemental is a 18 UB, 18 FBA FB, 20+ waist and hips. No height adjustments.
Though I liked both, the Magnolia had the edge at the beginning. It felt snug in a comfortable way and I ended up wearing it all day. But as the day went on, it wasn't as comfortable. It kept riding up and I'd get a ton of excess fabric above my bust which I don't get with the Elemental. This is where I need to admit I should have done a FBA on the Magnolia, but I was using my projector and crossed my fingers I didn't need it.  I also just recently learned how to do a full bicep adjustment and if I was making either pattern again I'd do one. I also hate 0.5" hems they flip up as you can see in the Magnolia arms. In the end, the Elemental takes the win, I needed to complete less grading and with the included FBA piece, it was less adjustments for me to make. I think I'll make the Magnolia again with an FBA and correct grading on the back piece. Both would make amazing layering tops and I've worn the Elemental a couple times on its own since I finished it last week.
Onto the next 3 patterns: Patterns For Pirates Favourite Tee (PINK/Passionfruit), Greenstyle's Green Tee (LIGHT BROWN/brown pear) and Apostrophe My Fit (LIGHT PEACH/Dragonfruit).
Let's start with the pink shirt, P4P's Favourite Tee in size plus 1X.  It only has a 0.5" hem, so the hems are constantly flipping up. But dammit, if I don't love the final fit! It's comfy, and even though there's no upper bust measurements it seems to fit my shoulders/upper bust well. I'll have to do some smoothing of lines so the front and back match (due to an error I made while sewing - it's supposed to have a split hem, hence why they don't match up) but I'll probably make this one again.
Greenstyle's Green Tee is the darker of the two peach colours and the v-neck. I made a size "I" bust graded to "J" at the waist/hips. I wanted to love this pattern, and I do love how it fits from my waist down. This shirt showcases my biggest take away from this project - UPPER BUST MEASUREMENTS MATTER!!!!! Like many patterns, the Green Tee only gives you a Full bust measurement and tells you to pick your size off that, which is great if you're a B cup -  what most patterns are drafted for. Otherwise, you'll have the same problem I have. I'm a D/E cup and fitting to my full bust means it's too big in my shoulders and upper bust. Combine the too large upper body with the very deep v-neck and I unfortunately have a top that isn't wearable at work, unless I want to flash everyone anytime I bend down. I could probably fix this by going down a size and doing a FBA, but I like cutting patterns with a projector and I'm a lazy sewist, so I'd rather just pick a different pattern where a FBA front is included.
Last, but certainly not least, is the Apostrophe My Fit Tee, the lighter peach shirt. Apostrophe is unique in that you input a ton of your measurements and it spits out a pattern unique to your size. A word of caution - accurate measurements are a must and sometimes it takes a few tries, but their Facebook group is amazing for help. This was my first attempt at the My Fit Tee and I was really happy with the fit except for the upper bust, which is my common fit issue with almost all of the 11 shirts I made. So I went to the Facebook group for help and a lovely person pointed out that I accidentally put in my full bust measurement as my upper bust, making my upper bust 5" too large, with zero difference between the too, oops. So I was super happy with the original fit and I'm really looking forward to making another one now that I fixed my measurement error.
Now it's the battle of the stripes: George & Ginger's Throwback Tee (Aqua/Acai) and Petite Stitchery's Skye (Orange). The Throwback tee is a straight 2x, though my waist is a 3x in their size chart. Because of the straight, loose fit of the pattern, I decided not to grade in and out for my waist. I measured the pattern pieces first to make sure there was room. The Skye is a straight 1x.
When sewing these two up, I was convinced there was a clear winner. The stripes on the throwback went together beautifully, lots of notches to help with construction and no unevenness in the armscye. On the Skye though, I was sure I completely messed up as the different pieces didn't match up on the edges. Then I sewed everything together and the end result was that the colour blocking matched perfectly. The throwback is loose, except the stomach (my fault), and comfy. This would 100% be the type of shirt I'd wear around the house on the weekend. I am having upper body fit issues, which is my fit issue with almost all these tops. After asking for help the consensus is though I technically fit into a 2x in both UB and FB, I'm on opposite ends of the 2x size range and would have had a better fit with a 1x and completing a FBA. As I've said before, I'm a lazy sewist and probably won't do it, so I'm very excited that in G&G's new size chart my need for an FBA should be eliminated and grading will be much easier. My first thought when trying on Skye is it's way too short. But then I kept trying it on and each time I wore it I loved it a little bit more. In the end, I actually really liked it. I do have some of the same upper body fit issues, but not as noticeable as other tops. I bought the matching kids top so I'll 100% make this one again to match my kid, but would lengthen it for personal preference. The upper body fit isn't bad enough that I'd bother with a FBA, because you know, lazy sewist.
The final two tops are Waves & Wild (Formally MBJM) Cuppa Tee (Blue/Blueberry) and DIBY Anything but Basic Tee (Green/Green Apple). The Blue Cuppa Tee is a XXL upper bust, with FBA full bust, graded to 3XL for waist and hips. The Green Anything but Basic Tee is a plus 18 UB/FB with a FBA graded to a plus 20 waist and hips.
Both these tops were added to my list based on people's suggestion and I thank them because these are two of my favourites. I don't think it's a coincidence that my top 3 either included FBA fronts (BnB & W&W) or the instructions to complete one (DIBY). I'm pretty happy with both. I have a decent upper and lower body fit in both and I'd use either one again. I'd probably lean towards the Cuppa Tea because it has the actual FBA piece whereas the ABB I had to print and construct the front pieces to do my own FBA. The reason I completed a FBA on the ABB and not the others is because the instructions specifically stated do an FBA if "...." and they gave detailed instructions on how to complete one. So for a beginner who has zero idea how or what a FBA is, that's a huge advantage over the rest of the tops where I had fit trouble.
Overall, through this whole process I've tried to be honest and share my personal thoughts and feelings on each pattern, but I believe that each of these patterns will work for someone. W
hat are my favourites or least favourite you may not agree with from the photos and that's totally OK! It's important to remember that everyone's preference is different so this is my opinion only. My personal favourites were the Anything but Basic, Elemental, Cuppa Tea, Skye and My Fit."
Thanks for a great comparison Blake!!